It is my pleasure to present this week's Digital Conversation with Patrick Hollingworth, an accomplished high-altitude mountaineer and leadership, teamwork, and business safety expert. In his professional role as a business consultant, Patrick draws from his mountaineering experience to help individuals and organisations cope with uncertainty in a changing business environment.
Patrick provides a unique perspective on why organisational leaders need to to be employing emerging technologies, especially mobile, cloud and social, to drive agility and flexibility in the way people work.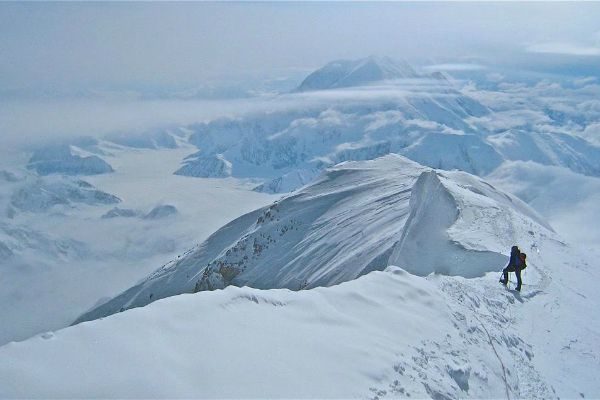 S: You talk a lot in your work about the idea of VUCA, could you explain what this means and why it's important for businesses?
A: VUCA is an acronym which stands for Volatility, Uncertainty, Complexity and Ambiguity. It originated in the United States Military and was devised as a succinct way of describing the 'new' landscape that the US military found itself in after the cessation of the Cold War. The global landscape had seemingly changed overnight from bilateral (i.e. the West vs. the Soviet Union) to multilateral (i.e. the West vs. many smaller, unknown opponents). This altered landscape would, they predicted, bring with it a lack of stability, certainty and simplicity, and an increase in ambiguity. For the most part, they were spot on.
Since then it's been picked up by a few people who consult to organisations, me being one of them. I reckon it's a great way of summarising the new landscape which, not only organizations, but all people and society are dealing with today. Globalisation and social and political change is having a significant impact on pretty much every aspect of our lives and most of this change is driven by technological disruption. I think a lot of us tend to dismiss it as a concept which only applies to Silicon Valley and the tech sector. But nothing could be further from the truth. Everything is ripe for disruption and the problem with disruption is that it's really hard to predict or forecast where it will happen next. Essentially, you can't, so VUCA describes the landscape we're all in and it requires us to develop new ways of doing things. What worked yesterday is barely working today and certainly won't work tomorrow!
S: What is it about your own experience that has led you to focus on this particular subject area?
A: It's a kind of interesting path that led me to focusing on the work that I do around VUCA today. At university, I studied an interesting mix of geography, anthropology and psychology, and that led me to working as a consultant to a lot of large mining and oil and gas companies during Australia's mining boom of the 2000's. I worked for a small but very successful niche consulting company which, at the height of the boom, was acquired by a large multi-national consultancy. Overnight, they attempted to transplant their large organisational culture into this small niche company. It failed miserably and I got to see first-hand how badly cultural change programs can go. Within a few years of the takeover, more than 80% of the original staff had left.
At the same time, I was developing my skill set as a mountaineer and was embarking annually on Himalayan climbing expeditions. That eventually led me to climbing Everest in 2010, and subsequent to that actually working as an expedition leader, so I spent a lot of time in that Himalayan environment at high altitude. In my experience, there's no better place for testing out what individuals and teams are capable of than when put under pressure at high-altitude. Everything is really hard up there!
As I continued my consulting work with large organizations, I started to notice that the business and political landscape post GFC was becoming increasingly uncertain, and that many of these organisations were responding to this uncertainty in a fairly reactive manner. It occurred to me that that is the last thing you would do in the mountains when surrounded by uncertainty. That's how accidents happen. So that's when I started looking at the similarities between the high-altitude mountain environment and this new business landscape, where uncertainty and overwhelm are the norm. And it just so happened there was already a word for it – VUCA!
S: What are some of the successful strategies you would put in place in a VUCA mountaineering environment and how do they translate to the corporate world?
A: Before setting in place a specific strategy, I would actually start with establishing an overarching context, a philosophy under which everything else will sit. This central philosophy is essentially an acceptance that the forthcoming period (be it a day, week, month, however long your climb or expedition is going to take) is going to entail some discomfort. Possibly even a bit of suffering. But I need to prepare myself for that in a mental context firstly. Then once I'm in the mountains, and something violent happens, such as an avalanche, or if uncertainty persists, such as fast moving or unpredictable weather, I'm not caught off-guard.
With regard to an actual strategy, I use a framework which consists of nine elements. The first three are about choosing the approach, building the team, and making sense of the surrounding environment. The next three steps are about the getting the vision, team engagement, and resilience right. Then the final three are about making safe decisions en route, constant learning, and thinking longer-term.
I find that all of this is of huge relevance to the corporate world, but in recognising this relevance, you need to move beyond the approach of the typical motivational speaker who might proclaim that "I climbed Mount Everest and you can too." Today's corporate world is way more complex, informed, and nuanced for such a simple message. However, when you go a whole lot deeper, that's when you can start extracting some really powerful learnings.
S: I appreciate your expertise is not in technology but as you pointed to technology earlier as a key driver of the uncertainty that many businesses are facing. If you were to apply your framework to an organisation's technology decisions, what advice would give them?
A: I reckon if applying my framework to an organisation's technology decisions, probably the most important factor would be the first: getting the approach right.
In mountaineering, there are generally two schools of approach. The first one is called Expedition Style, and that's where you lay siege to the mountain and overpower it with excess manpower and equipment. It's a really effective way of getting climbers to the top, and it's used on about 99% of occasions in the Himalayas due to the extremely high altitude. The downside to it, however, is that it's a fairly cumbersome approach. Whilst it's powerful, it's also a bit unwieldy and slow to respond. It's not a particularly agile way to climb. The second approach is known as Alpine Style. That's where you climb in a much smaller team carrying far less equipment, which allows you to move really quickly. It's an arguably more exposed way of climbing, but it does mean that you're agile and can respond really quickly to the changing environment. You'll be up on the summit and back down in base camp before any of the expedition style climbers have even had breakfast!
Applying this analogy to technology within an organisation, I guess it's like mainframe computing versus cloud computing. Mainframes are the expedition style of computing: large and powerful and pretty expensive to operate, and really well suited to large organisations dominating a stable and known environment. Cloud and mobile computing, on the other hand, are like alpine style: they're much cheaper and affordable for smaller businesses, and enable agility and flexibility that allow organisations to more quickly adapt to a changing and uncertain business environment.
—
Patrick is a TEDx presenter, a trained workshop designer and presenter, and an accredited practitioner of the Hermman Brain Dominance Instrument (HBDI), an internationally renowned and highly effective diagnostic tool for determining the cognitive thinking styles of teams and individuals. To learn more about what he can do for you and your team, visit patrickhollingworth.com.
https://www.simonwaller.com.au/wp-content/uploads/2015/07/Patrick-Hollingworth.jpg
400
600
Simon
https://www.simonwaller.com.au/wp-content/uploads/2016/08/simonwaller-web-1-300x138.png
Simon
2015-07-30 14:00:19
2017-07-31 13:13:15
Digital Conversations with Patrick Hollingworth