Over the Australia Day long weekend I went camping with a bunch of friends to a place called Taggerty. Taggerty sits just north of the Yarra Ranges in central Victoria, and by want of its position further from the coast and in the lee of the Yarra Ranges it misses out on some of the more variable weather patterns that Melbourne is famous for (it is generally four or five degrees warmer during the day).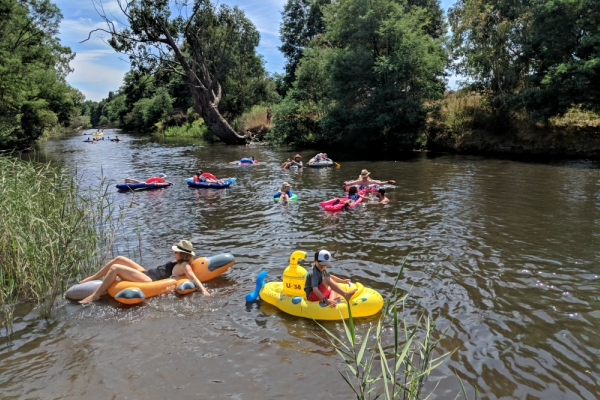 In summary Taggerty is hot…  
…it's not THAT hot, it's just hotter than I'm recently used to. Over the weekend it averaged 35 degrees celsius (95 degrees fahrenheit)  most days while we were there, but growing up in Perth this was just normal summer temperatures. And for my brother-in-law who lives up in Queensland, anything less than 30 means it's time to put a jumper on. And for players at the Australian Open who were dealing with a court surface temperature of 

69 DEGREES CELSIUS

 our 35 degrees would have been quite welcome.
The heat felt outside our immediate comfort zone, but only because we spend so much time at 22 degrees celsius. We live in air-conditioned houses and travel in air-conditioned cars to air-conditioned offices which are all regulated at 22 degrees. It is all very pleasant right up until we are unable to regulate the temperature any more and then we struggle to adjust.
You might not have picked this up but my camping story is also a rather elaborate metaphor for…
…the impact of job-destroying robots.
Research shows that improvements in Artificial Intelligence and related digital technologies mean that over the next decade almost all jobs will change, and a number of jobs will no longer exist. Which means that everyone who has a job is going to have to deal a bit of change and discomfort. And if we are constantly seeking out what is familiar and stable in our work, the less capable we will be when change becomes inevitable. 
It is entirely possible to avoid discomfort in the short term, but over the long term this is likely to have some dire consequences.
We will be ill prepared. If we struggle to operate outside of our comfort zone and our comfort zone eventually disappears, then it goes without saying that we are then more likely to struggle. Seeking out discomfort is an important strategy for building job resilience.
We will miss opportunities. The more we focus on the status quo the less in "Who's to say the status quo is the best we can do anyway?" There are a whole bunch of people who are currently working outside what we might consider OUR comfort zone (even if they are operating well within theirs)…and many of them seem to be having a great time or doing great work. What's to say that if we were willing to extend ourselves a little bit we might find incredible new opportunities.
We feel less alive. Ultimately, it is variability of our experiences that makes us feel alive. Happiness is relative to sadness, excitement is relative to boredom, and comfort is ultimately relative to discomfort. We tend to appreciate and enjoy things more when we have also experienced the alternative.
The little known power of experimentation
In his best selling book 

How To Lead A Quest: A Guidebook for Pioneering Leaders

 Dr Jason Fox talks about the power of experiments in developing corporate strategy. Experiments are cheap, simple, easy ways of trying something new whilst also giving yourself a safe way out. This same thinking can be applied equally for an individual level as it can for an organisation.
Experiments come in all shapes and sizes but involve a few common elements. They start with a hypothesis (or question you hope to answer), they involve taking action, and there is time given to analysis and reflection.
But I imagine you knew some of this already. The little known power of experimentation is that it is a safe way to just do something. And in just doing something we will not only learn the things we hope to learn (answering our hypothesis), we will also learn other things we didn't expect…and most importantly we will become more comfortable with discomfort.
I'm currently in the process of running two grand experiments. I call them grand experiments because they have the potential to significantly impact the way that I work, and even the way that I live (that being said, they still provide a safe out should they fail to deliver the outcomes I hope for).
The first of these experiments is called 

Project Live

. Project Live aims to challenge how I present my keynotes. It is based on the hypothesis that  through the more sophisticated use of images, colour and lighting I can create the type of immersive experiences you might otherwise associate with music concerts. If it fails I can always go back to the structure of my existing keynote presentations but if it succeeds I have the opportunity to dramatically improve the audience experience.
The second of these experiments I call my 

Life Work Adventure

. My Life Work Adventure involves me working from a camper van for three months whilst travelling with my family up the east coast of Australia. It is intentionally not just a three month holiday, in a sense that would be too easy. I want to prove that as long as we have access to the right technology and we treat our colleagues and clients with love and respect we can effectively work from anywhere. If it fails I can always go back to working next to the pool in Mt Eliza but if it succeeds I have the opportunity to have similar, or perhaps even longer adventures with my family in the future.
If you can't stand the heat
Leading up to our camping trip some of our friends were genuinely concerned about how they were going to deal with the heat (one family even left their camp stove at home so they could pack an evaporative air conditioner) but in some ways the reality was far better than the expectation. Yes it was hot but we quickly found ways of staying cool the best of which involved floating down the Acheron River on inflatable toys and inner tubes drinking a cold beer. The truth is, this isn't something we would have tried unless it was so damn hot…yet ultimately this was perhaps the ultimate memory we will have from the camping trip. Thirty-two people, on a flotilla of inflatable toys, slowly floating down the Acheron River.
In the end it was the unexpected heat that created the most amazing opportunity.

This blog post has been syndicated to Medium. If you'd like to add comments or ideas, head over to this page.
https://www.simonwaller.com.au/wp-content/uploads/2018/02/Flotillas-on-the-Acheron-River.jpg
400
600
Simon
https://www.simonwaller.com.au/wp-content/uploads/2016/08/simonwaller-web-1-300x138.png
Simon
2018-02-05 16:33:33
2018-02-05 16:34:04
Comfort with discomfort