My dad is one of those people who prides himself on how well he trains his dogs. But growing up we had a dog by the name of Buster and even my Dad wonders sometimes whether Buster just spent 15 years training him.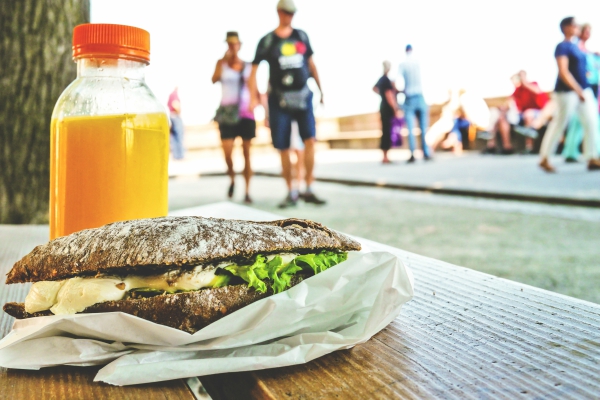 Buster would go with my Dad everywhere. One day Dad was out running errands and Buster sat with him, sitting obediently in the front passenger seat footwell. It was about lunchtime so Dad stopped off to pick up a steak sandwich to eat. He was eating it on the go but had only managed to eat about quarter of it before getting to his next stop. Trusting that Buster knew not to touch food that wasn't his, Dad left the steak sandwich unwrapped on the front passenger seat.
After giving the dog a stern 'Don't touch it' he jumped out of the car and ran into a nearby office to drop off some documents. Returning a few minutes later he jumps back in the car and felt a small surge of pride to see that his steak sandwich was still sitting on the front passenger seat.
Commending Buster with a warm 'Good boy' it was only after he picked up the sandwich and took a bite that he found out Buster had managed to slip the steak out of the sandwich and left the rest of it completely intact.
The truth is training or telling people what to do rarely works. People might look like they're doing what they've been told, but under the surface something quite different might be going on. If you want people to follow your orders, back up your project or use your technology you need to do one of two things. You need to either take the time and effort to understand how people doing what you want is in their own self interest or you need to find a way to make the wrong outcomes harder to achieve and the right outcomes easier.
* This post is a reflection on a story that I've recorded as part of a larger project on the use of storytelling in business. To find out more about the project or to check out some of the stories I've recorded head to Project Live.
This blog post has been syndicated to Medium. If you'd like to add comments or ideas, head over to this page.
https://www.simonwaller.com.au/wp-content/uploads/2017/11/Steak-Sandwich_6x4.jpg
400
600
Simon
https://www.simonwaller.com.au/wp-content/uploads/2016/08/simonwaller-web-1-300x138.png
Simon
2017-11-17 16:38:56
2018-01-29 13:08:34
No amount of training will replace self interest