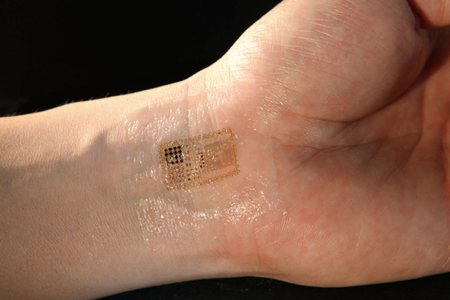 This is a follow up to Cyborgs at work part 1: Are you for real? If you haven't read it already you might want to start there first.
So if we are going to see cyborgs in the workplace, what are the technologies that are going to provide a competitive advantage in the future workplace?
Personal computing devices
I think that perhaps the most important technology will be our 'personal computing device'. Although this sounds remarkably like a personal computer or PC, the best example of this currently is a tablet or smartphone. The primary purpose of these devices is to provide
A platform for supporting our work tasks
Digital storage to augment our memory
Connectivity to online resources
Digital communication channels
Although tablets and smartphones are considered intuitive relative to our current desktop operating systems, they will be crude compared to what we will see in the future. Services such as Google Now are  starting to take a more predictive approach to delivering the information that we need when we need it. This will become more commonplace and greatly increase the usefulness of these types of devices.
Heads up displays
The next important technology will be heads up displays that allow us to receive information in more natural ways. Currently to access  information through our personal computing devices we need to get it out of our pocket or bag, enter a pin, open the relevant app, and search for relevant information. Although this is a vast improvement over conventional PCs, it still requires a very intentional decision to be made before we access information. Technologies such as Google Glass will go a long way to removing this barrier and I have no doubt that future technologies will include the ability for this type of information to be projected directly into your thoughts.
New input interfaces
Whereas personal computing devices and heads up displays are already with us, wearable technologies that deal effectively with information capture are still a little way off. Currently the best method we have for information capture, for almost any computing device, is the keyboard. Although there is a move towards voice recognition as an alternative the lack of multitasking ability with voice (ie holding a conversation and taking notes at the same time) means that this will probably not become a keyboard replacement.
Instead we are going to see more gesture based interfaces emerging (such as the Leap Motion controller) and this will ultimately give way to thought controlled interfaces. Some thought controlled interfaces have already been commercialised but the current generation of the technology is difficult to use and cumbersome to wear. In the pipeline are devices no bigger than a 10c coin that will read our thoughts and send them over Bluetooth to be deciphered by our personal computing devices and then projected back to our heads up display.
In addition to these general technologies there will be a number of more specific technologies to enhance our ability in specific tasks or roles. These might include powered exoskeletons to both enhance and protect construction workers or Watson like artificial intelligence systems to help doctors diagnose and treat cancer patients.
Much of the technology required to create cyborg office workers is already in existence. Although this technology will continue to improve over time I believe there is little apart from social norms to stop this occurring right now.
In the final chapter on cyborgs in the workplace we will look at how this future might play out and what might be different in a cyborg friendly workplace.
https://www.simonwaller.com.au/wp-content/uploads/2013/08/technology-tattoo.jpg
300
450
Simon
https://www.simonwaller.com.au/wp-content/uploads/2016/08/simonwaller-web-1-300x138.png
Simon
2013-08-20 10:23:03
2018-11-26 16:07:39
Cyborgs at work part 2: The technology