Let's all start by taking a deep breath.
[insert 20 second pause here]
Things have gotten a little crazy of late. Like many of you, a big chunk of my business has taken a nose dive. Last year I spoke at more than 20 conferences and was already booked to speak at another dozen or so this year. Now most of those events have been cancelled or postponed. And in my day job running the Digital Champions Club, many of my clients are in absolute turmoil, suddenly needing to re-imagine their products and services as digital first offerings. And layered on top of this there is the personal anxiety and uncertainty that Coronavirus has brought with it.
With all that's going on, is it wrong that I feel super excited right now? I mean genuinely excited! Pumped! It feels like in every Zoom call (or even on my old school mobile phone) I end up turning into this bubbly fountain of energy and enthusiasm.
And why so much excitement?
We are currently experiencing the greatest opportunity for experimentation, growth and learning most of us are likely to see in our lifetime.
Business as Usual (and even Life as Usual) is currently on a respirator in an overcrowded Italian hospital. The question is, do we really want it to recover? And if that seems a little cruel…if it does recover, are there some permanent changes we'd like to see?
For instance, now that we've had to trust so many people to work from home could we perhaps give them the opportunity to work from home more often? Or provide greater trust by default? Or, now that we've found great ways to connect with people over video conference, could we continue to do so and save a bucket load of time, money and emissions on unnecessary air travel? Or now that we've temporarily been invited into people's homes, met their kids and their pets, perhaps we can allow people to be a little more human in the workplace?
For me though, the number one thing I'd like to change about Business as Usual is our approach to experimentation (and it's good friend innovation). The 'We've always done it that way' mindset is an age old barrier to innovation. But right now this statement is almost meaningless. First, we can no longer do it the way we've always done it and second, we have ample new examples of how doing things different can have massive benefits.
But when this is all over BAU will come back to rule again. We will feel relieved and be desperate for some stability and normality (whatever that is) and want a break from all this change. So while we have the momentum let's not waste it. Let's experiment our little hearts out in the knowledge that right now it's OK to do something different and try something new.
We are in a golden age of experimentation and discovery but who knows how long it will last.
Some things I'm working on
Helping clients to host epic online events
I've started a new venture called '& Now Events' with the incredibly talented conference speaker and MC Mykel Dixon and his film maker brother Dave Dixon. It started as a way to help our existing clients create meaningful and genuinely engaging online events but then some other people found out about it and we're now running events every week. If you're thinking of taking your event online (or worse, thinking of postponing your event until next year) I'd be happy to spare a little time to run through the alternatives.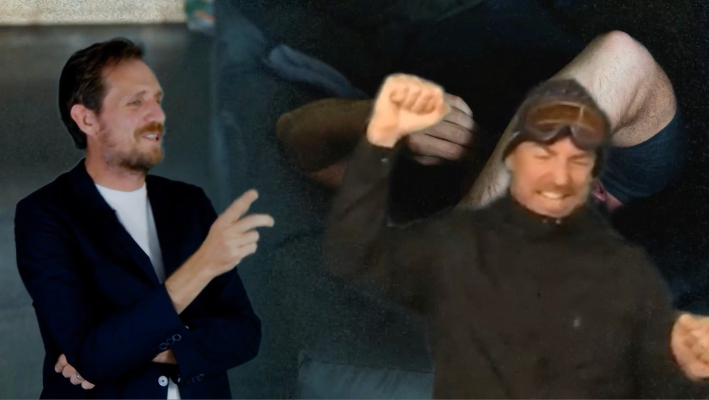 Delivering online keynotes that don't suck
There are lots of keynote speakers who will tell you they can do online but it's disappointing that most end up looking a lot like a webinar. I'm just putting the finishing touches to my home studio so I can deliver a virtual version of the same live mixed audio visual experience that I used to deliver in real life. In fact I'd argue that the virtual version offers some cool new opportunities that were hard in real life. In a keynote I did this week I had Mykel Dixon do a cameo performance half way through the event all without from his home studio in Geelong…insane!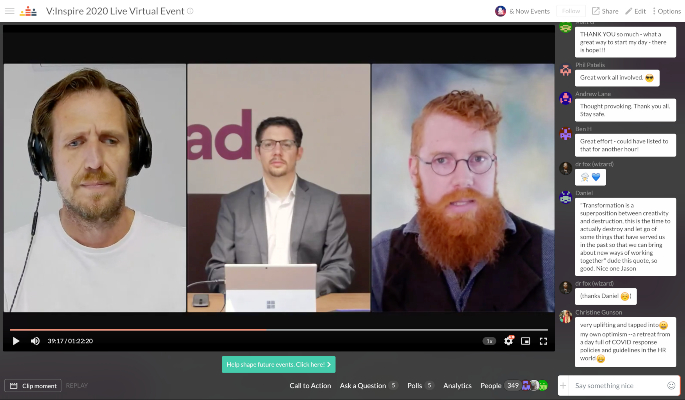 Some guest appearances I've made
Ticker TV
I had the privilege of being the first guest on David Banger's new Change Lab show on Ticker TV…and even my dog gets a gig doing some voice over work.
https://www.davidbanger.com/change-lab?wix-vod-video-id=47a2cb5827644423a2616841f9680189&wix-vod-comp-id=comp-k89zzvuk
The Business of Experience Podcast
I joined customer experience guru Rodney Hobbs on his new podcast to explore the 'experience of change'. This was recorded right as the Coronavirus pandemic was just about to hit.
https://anchor.fm/rodney-hobbs/episodes/Episode-Three—Change-Experience-Digital-Transformation-with-Simon-Waller-ecd7vp
https://www.simonwaller.com.au/wp-content/uploads/2016/08/simonwaller-web-1-300x138.png
0
0
Simon
https://www.simonwaller.com.au/wp-content/uploads/2016/08/simonwaller-web-1-300x138.png
Simon
2020-04-09 13:13:28
2020-04-09 13:15:17
A New Golden Age of Experimentation